Exploration outside the Tritton operations area
The Company holds a number of prospective regional exploration tenements across Australia in New South Wales, South Australia and Queensland.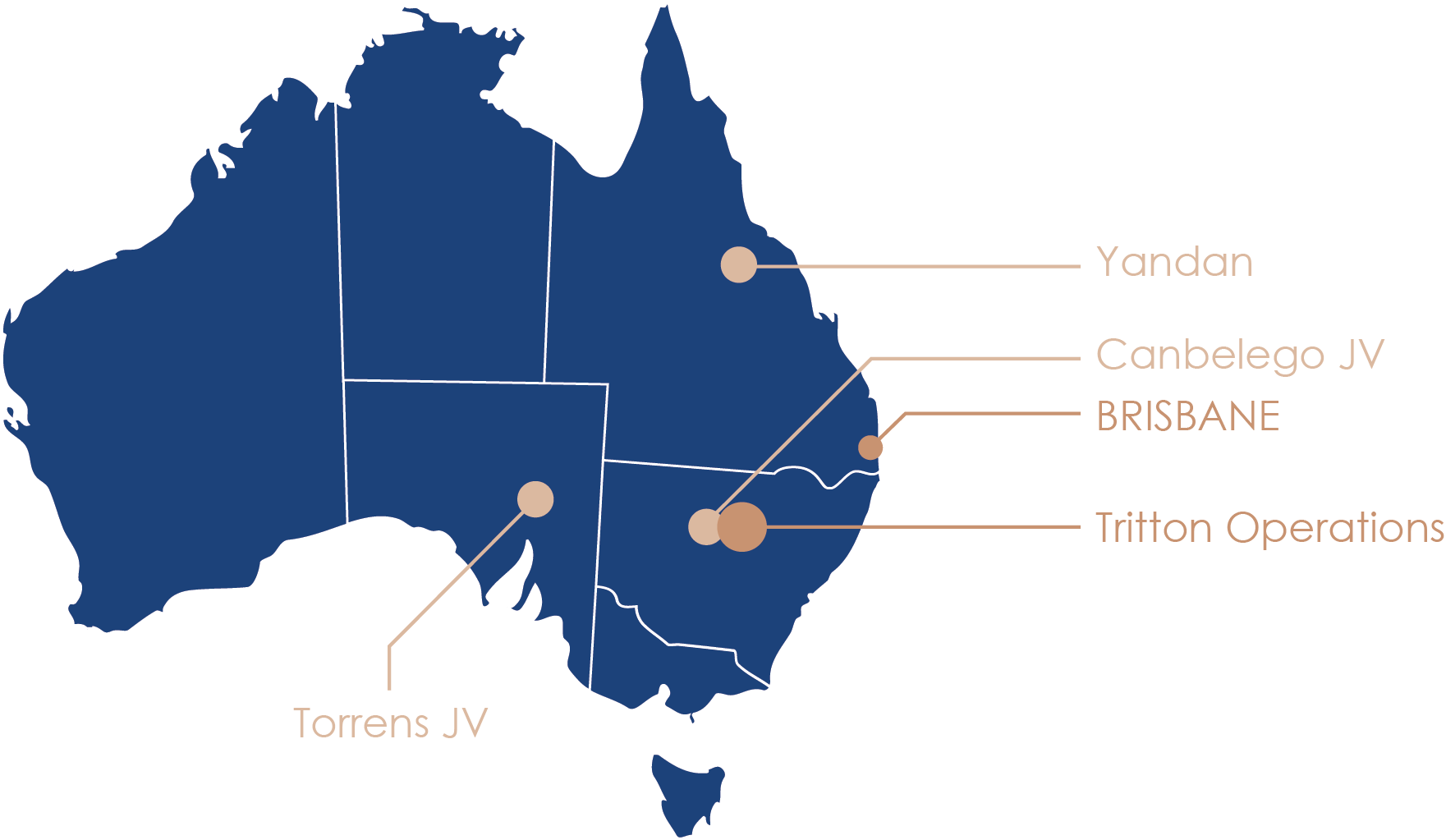 Torrens, SA
The Torrens Joint Venture between Argonaut Resources NL (ASX: ARE) and Aeris (70 per cent interest) and is another of Aeris' key exploration projects.
The Torrens project (tenement EL 4296) is exploring for iron-oxide copper gold systems in the highly prospective Stuart Shelf region of South Australia. The project is located near the eastern margin of South Australia's Gawler Craton region (Stuart Shelf), 50km from the Carrapateena copper gold deposit and 75km from BHP Billiton's Olympic Dam mine.
Torrens contains strong magnetic and gravity anomalies with previous drilling by WMC Ltd intersecting intense magnetite and haematite alteration typical of Olympic Dam and Carrapateena style mineralised systems.
In early July 2010 the Torrens Joint Venture announced that its application under s23 of the Aboriginal Heritage Act 1988 in South Australia in respect of the Torrens project had been approved by the Minister for Aboriginal Affairs and Reconciliation. A judicial review of this decision was dismissed on 17 March 2011 in the Supreme Court of South Australia, ensuring that the original s23 authorisation stands.
The matter will eventually be returned to the ERD Court for a new decision. Aeris and our Joint Venture partner Argonaut, are active in preparing to obtain access to the land so exploration work can commence.
Yandan, QLD
Straits Gold Pty Ltd (a wholly owned subsidiary of Aeris Resources Limited) is the 100 per cent holder of the tenements comprising the Yandan project. There has been no exploration activity on the project for several years.
The Yandan gold mine was operated by Ross Mining between 1985 and 1990 and produced over 350,000 ounces of gold by heap leach and from a carbon in leach plant. An initial resource estimate has been determined for the East Hill mineralisation:
4Mt at 2.4g/t for 308,000 ounces gold Inferred Resource with no lower cut-off
1.2Mt at 5.1g/t for 202,000 ounces gold Inferred Resource at a cut-off of 3g/t
Regional studies have defined other mineralised centres with significant potential to delineate economic gold systems. Two of these centres are host to the Illamahta deposit and the Northeast prospect.
The mining lease has significant water dams and rights to harvest water from the adjacent Sutor River.
The gold processing plant was removed before the company purchased the property. Rehabilitation of a portion of the tailing storage facility, dump leach pads remain to be completed. Cost effective ways to close the tailing storage facility are being investigated.
The company is considering future options for the asset.
Canbelego, NSW
The Canbelego project is in joint venture with Oxley Exploration Pty Ltd (70 per cent interest), a subsidiary of Helix Resources.
The Canbelego project covers approximately 40km2 and is located 45km south west of the Tritton operations. Tenement EL6105 covers a 10km long, north-west trending magnetic complex, which is very prospective for base metal VMS deposits. Exploration activities have been focused on targeting mineralisation extensions below the historical Canbelego workings and regional geophysical and geochemical surveys to define regional targets within the tenement.
Significant intersections at Canbelego include 9m at 2.5% copper from 36m in CANRC001, 10m at 2.0% copper from 145m in CANRC002 and 15m at 1.1% copper from 140m in CANRC004.