Torrens Project
The Torrens Project (EL5614) is a joint venture between Aeris Resources (70% interest) and Kelaray Pty Ltd (a wholly owned subsidiary of Argonaut Resources NL) and is exploring for iron-oxide copper-gold (IOCG) systems.
EL5614 is located within the highly prospective Stuart Shelf Region of South Australia and lies within 50 kilometres of Oz Minerals' Carrapateena deposit and 75 kilometres from BHP's Olympic Dam mine. The Torrens Anomaly, a large regionally significant coincident magnetic and gravity anomaly with a footprint in excess 160km2 (larger footprint than Olympic Dam) is located within EL5614.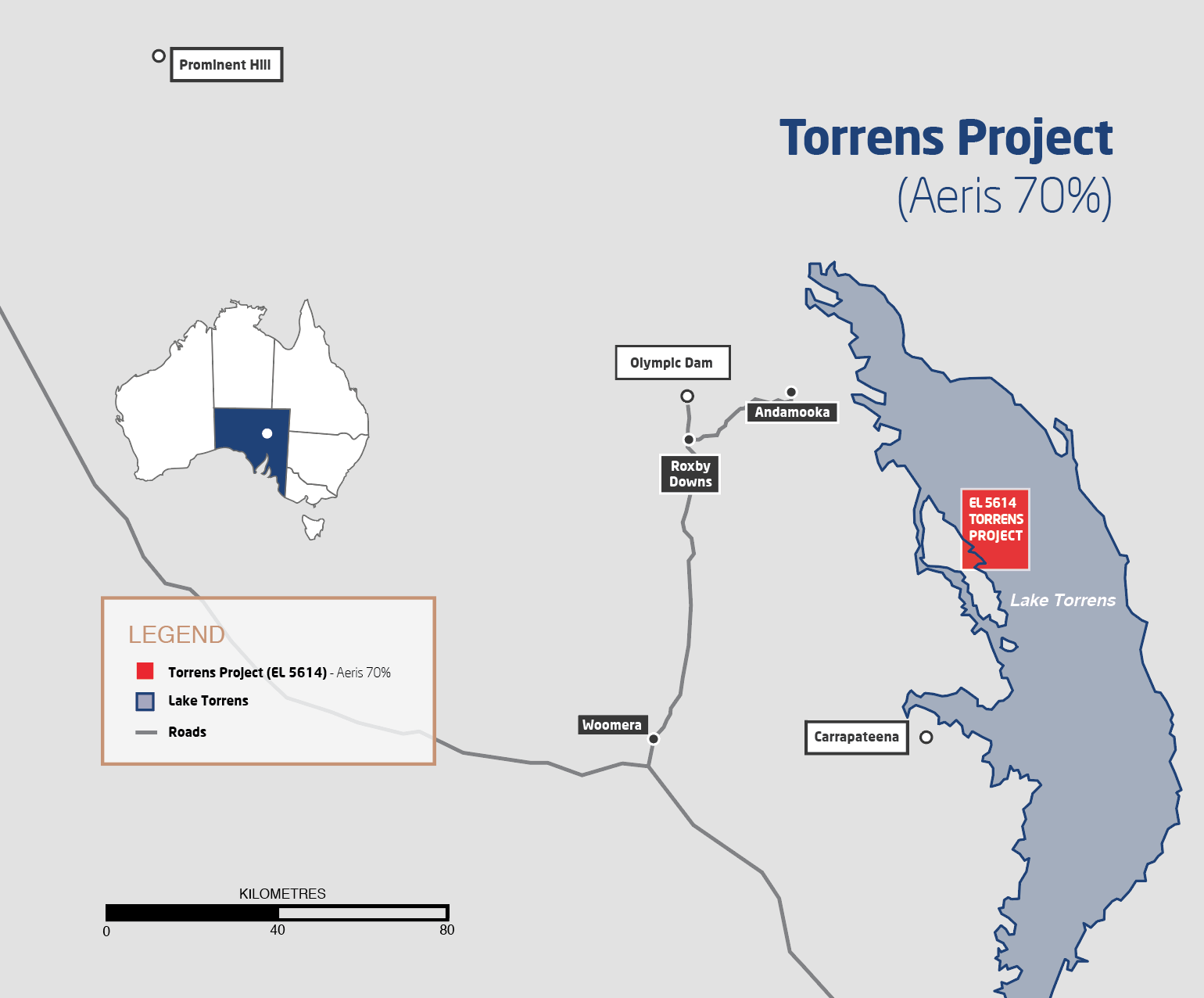 Limited drilling, totalling six drill holes between 1977 and 2008 defined a large magnetite dominant with lesser hematite alteration system interpreted to form the distal component of a large IOCG system. Zones of anomalous copper mineralisation (≥0.1% Cu) were intersected from several drill holes with the most significant mineralised zone associated with TD2 (246m @ 0.1% Cu).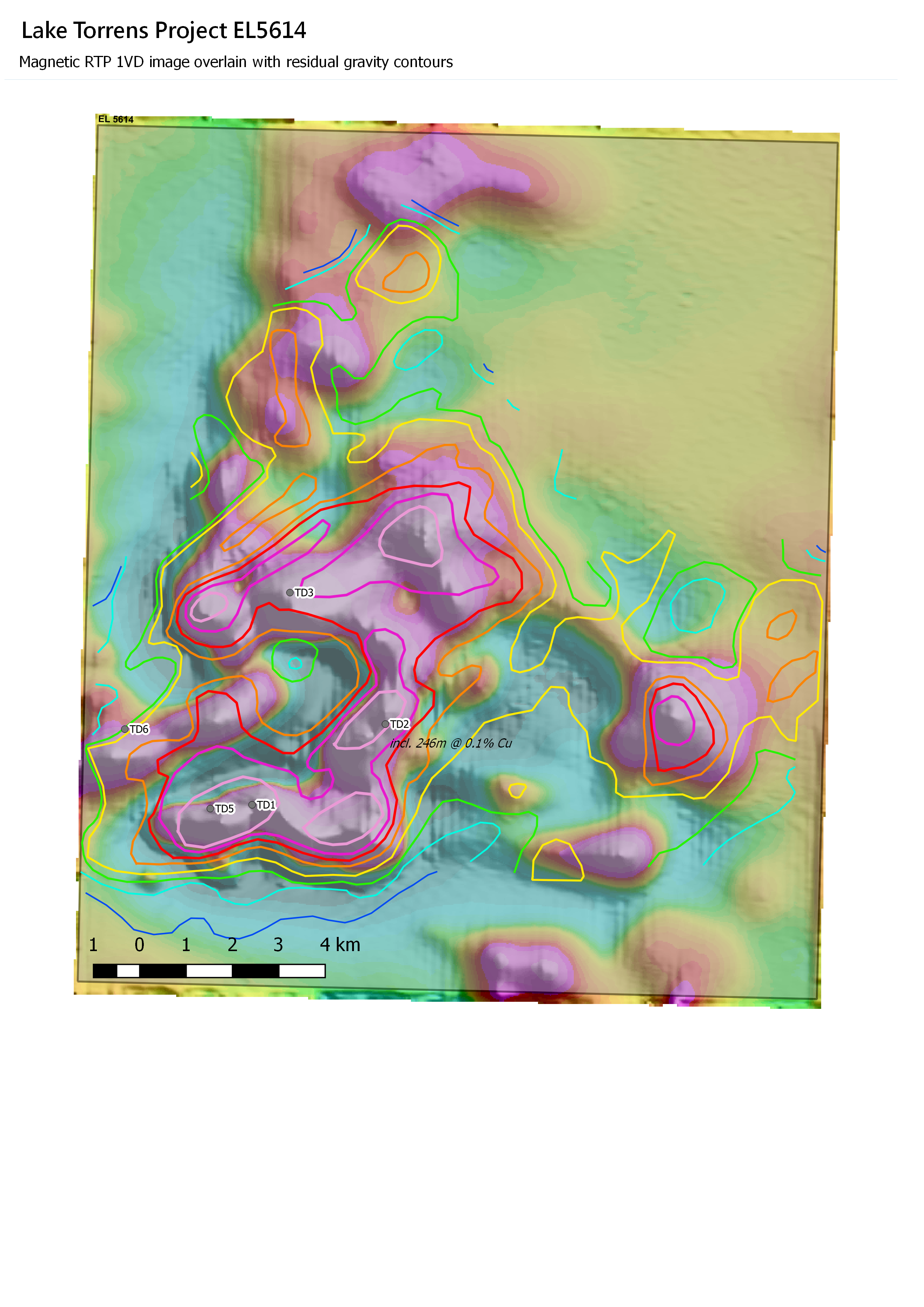 Exploration activity on the project has been suspended since 2008 due to uncertainty regards the Native Title status of the project area, and Aboriginal Heritage restrictions.
On 9th August 2016, Justice Mansfield of the Federal Court handed down his decision on the Lake Torrens Overlap Proceedings (No3). These proceedings were in respect of overlapping applications for a determination of native title rights over the lands and water of Lake Torrens, claimed by three separate native title claimant groups. The Torrens Project EL5614 is located within the disputed claim area. Justice Mansfield ruled that none of the overlapping claims had been proved. All claimants have made appeals to the full court. The court has not yet made a decision on the appeals and it may dismiss all the appeals. In the interim, the effect of the Mansfield decision is that the area of the project has no Native Title granted, nor any recognised Native Title claimants.
On 31 March 2017 the joint venture partners were granted a summary determination by the South Australia Environmental Resources and Development Court, in the absence of any Native Title claimants, of the Native Title authority for the conduct of exploration activities on EL5614 This allows the joint venture to submit the plan of activity with supporting environmental impact assessments. The State regulators will review and can approve the exploration activities.
Aboriginal Heritage matters remain to be resolved before exploration activities can commence in practice. The whole of Lake Torrens and several sites in close proximity to EL5614 have been claimed as Aboriginal Heritage sites. Application to disturb the Lake Torrens site for the purposes of exploration under Aboriginal Heritage Law of South Australia was previously refused and then became entangled in legal dispute and appeals. This issue remains to be resolved through Native Heritage Agreements and a new application to the South Australia Government for approval to disturb.