Aeris Resources' Tritton operations, located near Nyngan in New South Wales, have archieved record production of copper in recent years, with ore currently sourced from the Tritton and Murrawombie underground mines. The operations are 100 per cent owned and operated by Aeris' subsidiary, Tritton Resources Pty Limited.
At current production rates, the Tritton operations have an estimated mine life of eight years. This said, Aeris has an extensive portfolio of identified exploration and development projects, and remains confident about the long-term growth prospects at the Tritton Operation, and the potential for further discoveries in this highly prospective region. In July 2016, Aeris announced that it was planning to increase greenfields exploration activities on its tenements surrounding the Tritton Operations with $7.5 million targeted to be spend over the next two years.
All Copper concentrate is sold to Glencore, following a life of mine offtake agreement executed in September 2012.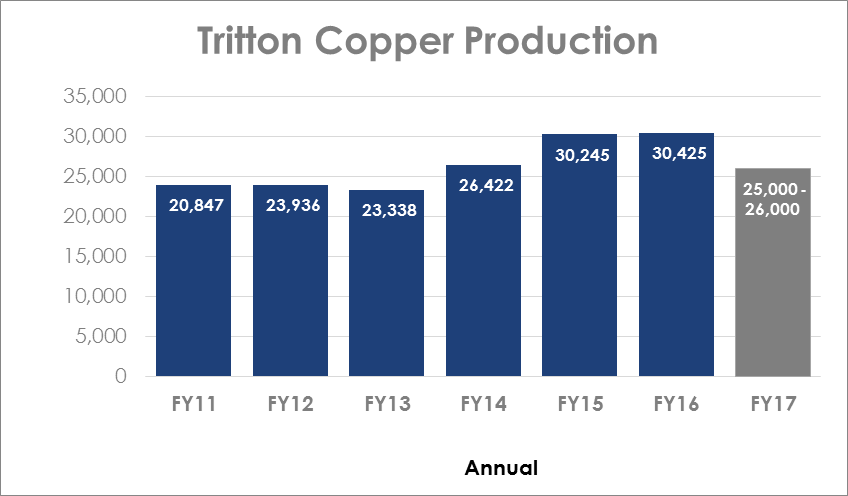 Mining and processing
Mining methods at the Tritton underground operations include sublevel open stoping or retreating bench stoping. Stope orientation is transverse and longitudinal depending on the geometry of the ore lenses. Backfill at the Tritton mine is cemented paste fill from reused mill tailings, whereas Murrawombie mine utilise dry waste backfill.
Ore from the Murrawombie mine is trucked 30km by road train to the Company's 1.8 million tonne per annum processing plant, located near the larger Tritton mine. Here the ore is processed through conventional crushing and flotation methods, producing a clean copper concentrate.
Concentrate is transported by rail to the port of Newcastle, and is then shipped to smelters predominantly in the Asia Pacific region.
Geology
The geology of the deposits at the Tritton operations are described as Besshi style Volcanic Massive Sulphides (VMS). They are exhalative deposits of banded sulphide lenses with predominate pyrite, lesser chalcopyrite, sphalerite and trace gold. Copper grades range from 1.0 to 3.0%. Zinc grades are not of economic interest and typically in the range 0.2 to 0.5%. The deposits contain minor gold content that occasionally return payable value in the concentrate.
Importantly, these VMS deposits are characteristically found in clusters. This is the experience at the Tritton operations where stacked sheet lenses are typical in the stratigraphic sequence. Deposit size varies widely from more than 20 million tonnes in the main Tritton deposit to smaller lenses of less than 1 million tonnes. Typical geometry is tabular lenses with moderate dip (30o to 50o) and short strike of 200m to 300m. The length of the lenses can be significant, with the main Tritton deposit extending for at least 1800m down dip.