Aeris has a number of advanced mining projects in the Tritton region which are currently the subject of development studies. These include the Avoca Tank underground mine, Murrawombie open pit expansion and Budgery open pit. Extension of the Tritton mine at depth and development of the Murrawombie underground project are in progress.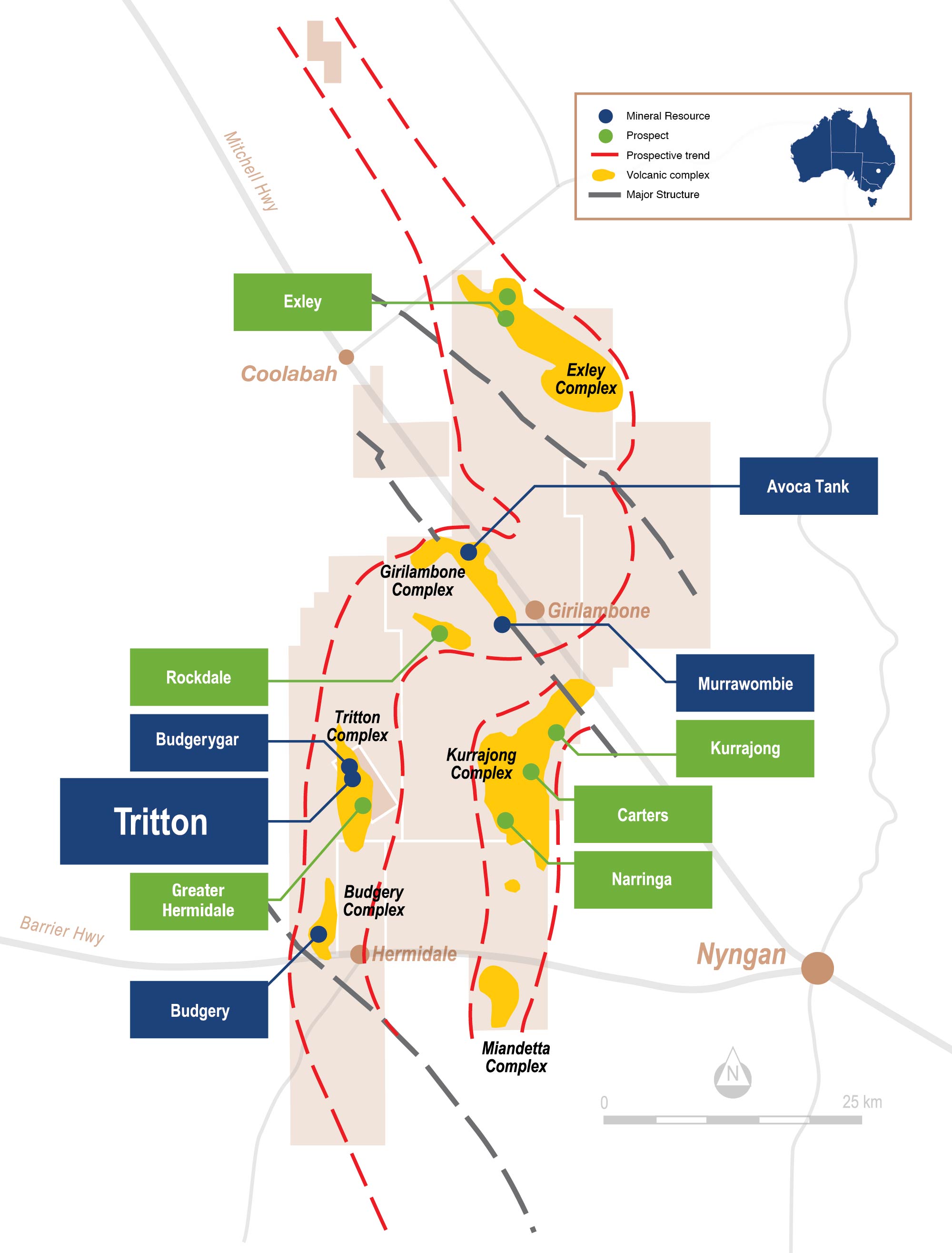 Avoca Tank Deposit: Pre-Feasibility Study Completed
The Avoca Tank Deposit (Avoca Tank) is in the far north of the Girilambone Complex. It is located only 2.5 kilometres north-west from the North East Deposit, which will allow office, workshop and other infrastructure in the Girilambone area to be used for Avoca Tank. It is located only 2.5km north-west from the North East and Larsens deposits, and the process leading to application of a Mining Lease is underway.
Avoca Tank is a high-grade sulphide deposit with an Ore Reserve estimate and completed pre-feasibility study and will provide higher grade supplementary feed for the Tritton processing plant. It is scheduled to be used as top up plant feed when the production rate from Tritton starts to decline, providing spare processing capacity. Avoca Tank copper mineralisation is associated with three stacked lenses hosted at the contact between an upper sequence of interlayered metasediments and a lower sequence of mafic volcanics. The mineralised lenses vary in strike size from 15 metres to 60 metres, and true thickness ranges between 2 metres and 30 metres. A development application for the project has been approved by the Bogan Shire Council and the processes leading to application of a Mining Lease are underway.
The Avoca Tank Deposit remains open at depth below 450 metres vertical. There is further opportunity for future depth extension when underground drilling platforms are available. Aeris remains confident in the likelihood of other, similar type discoveries, given the prospective geology around the northern end of the Girilambone Mafic Complex..
Avoca Tank Development Application Environmental Impact Statement Documents
Avoca Tank Environmental Impact Statement
Avoca Tank Project Development Application Approval - Appendix 1
Avoca Tank Project EIS - Appendix 2 Director General Requirements
Avoca Tank Projects EIS - Appendix 3 Coverage of Director General Requirements
Avoca Tank Project EIS - Appendix 4 Statement of Committment
Avoca Tank Project EIS - Appendix 5 Aboriginal Cultural Heritage Assessment Part 1
Avoca Tank Project EIS - Appendix 5 Aboriginal Cultural Heritage Assessment Part 2
Avoca Tank Project EIS - Appendix 6 Ecology Assessment
Avoca Tank Project EIS - Appendix 7 Groundwater Impact Assessment
Avoca Tank Project EIS - Appendix 8 Noise and Blasting Assessment
Avoca Tank Project EIS - Appendix 9 Historic Heritage Assessment
Avoca Tank Project - Response to Submissions & Appendices June 2016
Avoca Tank Project Complaints Register
Murrawombie - Open Pit Extension: Pre-Feasibility Study completed
A modest expansion cut-back of the historic Murrawombie open pit has been designed to mine an estimated 1.5 million tonnes of sulphide ore. The estimated ore has increased from the previous year. This follows a redesign of the pit that avoids a crown pillar above the underground mine and access to some of the 101 lode that is better mined by pit than by underground methods. Mining of the pit expansion will assist with the final closure of the heap leach pads, saving on mine rehabilitation costs. The Murrawombie open pit expansion project will commence after the Murrawombie underground is completed to avoid any interaction risks with an operating underground mine.
Budgery Deposit: Concept Study completed
The Budgery Deposit is part of the Budgery Complex and is located approximately 20 kilometeres south of the Company's processing plant at Tritton by a sealed road, close to the Hermidale township. Significant drilling has already been conducted, sufficient to support a concept study for an open pit. Further resource drilling, metallurgy studies, environmental studies and native title negotiations are required before a pre-feasibility study can be completed. Any further technical work on the project has been suspended pending clarification of the native title status of a small but important area of the project. The treatment method for the near surface oxide portion of the ore body requires additional technical study. Tritton Copper Operations has long experience with treatment of oxide ores by heap leaching and this is one option. Treatment through the Tritton processing plant with a sulphidization pre-treatment may also be possible. At this stage, the Life of Mine plan only includes the treatment of the sulphide ore from Budgery, but the copper recovery from the oxide ore remains an opportunity.
The Budgery mineralised system is large and known to continue at depth. There has been limited drilling completed at depth, and this presents an opportunity to increase the Mineral Resource down dip from the current reported Mineral Resource, which extends 250 metres vertically.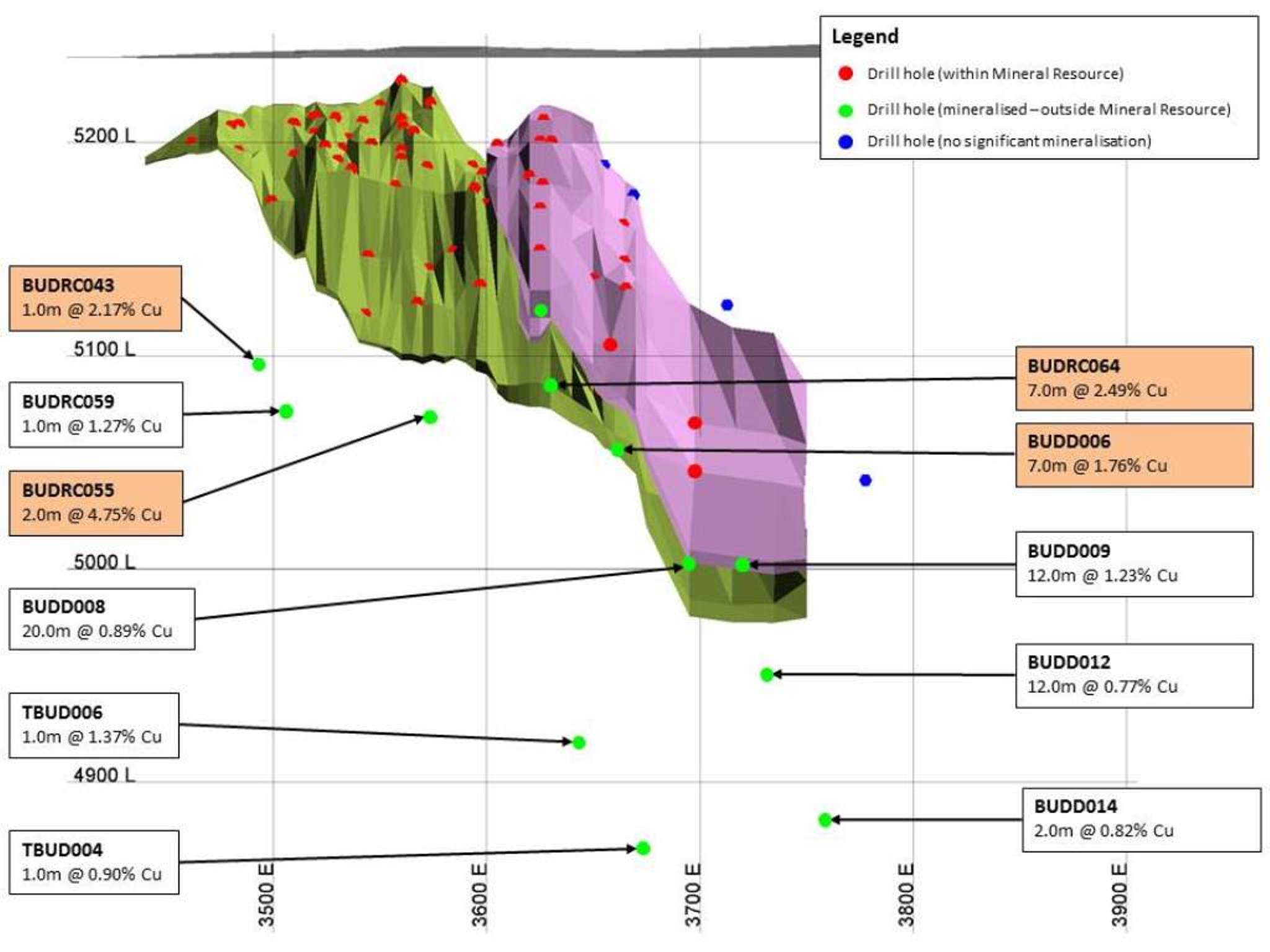 Long Section view of the Budgery Deposit showing drill hole intersections within (red) and outside (green and blue) of the current Mineral Resources.