Overview
There are four additional mine projects scheduled for future production, which together with Tritton and Murrawombie form the current Life of Mine plan (LOM). These projects will supplement and then replace production from Tritton and Murrawombie as the latter are exhausted.
Brownfields exploration at the Tritton deposit has identified a number of opportunities to extend the life of the operation, including extensions to the current Mineral Resource. Importantly, both the Tritton and Murrawombie deposits remain open at depth. Aeris is confident that drilling will grow these known deposits and that mine life will progressively extend. Exploration success in finding new deposits in this highly prospective region could increase production rates and/or increase the life of the operation.
History of the Tritton Copper Operations
Mining within the Tritton area in modern times began in 1992 at the Murrawombie open pit, and heap leach operation by the Girilambone Copper Company, a Joint Venture between Straits Resources (now Aeris) and Nord Pacific. The Girilambone Copper Company eventually became a wholly owned subsidiary of Straits Resources. Operations at the Girilambone copper project involved the mining of several open pits to recover copper oxide ore that was treated by heap leach, followed by solvent extraction and electrowinning processing to produce copper cathode. The Murrawombie pit was the largest of the mines. Open pit mining at Girilambone ended in 1999, although copper cathode production continued for two more years.
Leaching of residual copper from the Murrawombie heap leach continues today. Approximately 400 tonne per year of copper is extracted from the leach solution as a copper cement by reaction with scrap iron.
Exploration by the Straits Resources and Nord Joint Venture resulted in the discovery of the Tritton deposit in 1995 as part of an exploration program focused on the historical Budgerygar and Bonnie Dundee copper gold mines. Geophysical techniques were successful in identifying the buried Tritton deposit 800 metres to the south of these historical workings. Tritton Resources Limited was formed to develop the Tritton deposit. It was for a time listed as an independent company on the Australian stock exchange, before being privatised as a subsidiary of Straits Resources (now Aeris).
Tritton Underground Mine
The Tritton deposit is a large, (over 20 million tonne), copper dominant sulphide system, discovered in the mid 1990s via geophysical methods.
Mining of the Tritton orebody commenced in 2004 with the development of an access decline and construction of a sulphide ore processing plant. Copper is extracted via conventional crushing and flotation circuits producing a copper concentrate. Stope production commenced in March 2005. In its first year of production, Tritton produced 23,088 tonnes of copper in concentrate.
Tritton reached 10 years of production in 2015 with significant Mineral Resource remaining. As at 30 June 2018, the combined Measured, Indicated and Inferred Tritton Mineral Resource Estimate is 10.3 million tonne at 1.4% Cu for 150 thousand tonne of copper metal. Find out more
The Tritton Underground Mine successfully transitioned to a new mine design in response to a change in orebody geometry, with changes to stope extraction sequence on the lower levels to eliminate pillar stopes.
Additional upgrades to the ventilation circuit were completed in 2017 to sustain ore production at more than a million tonnes per annum. This investment, together with changes to the mining sequence have set Tritton up for stable stope production in coming years as mining extends at depth.
Aeris is committed to continued investigation and investment into mining equipment and technology. Some recent examples have included a significant upgrade of the tele-remote loader operation system allowing loading operations to be conducted from the surface control room, and bogging ore from the stopes to be continued during blast clearance and shift changes.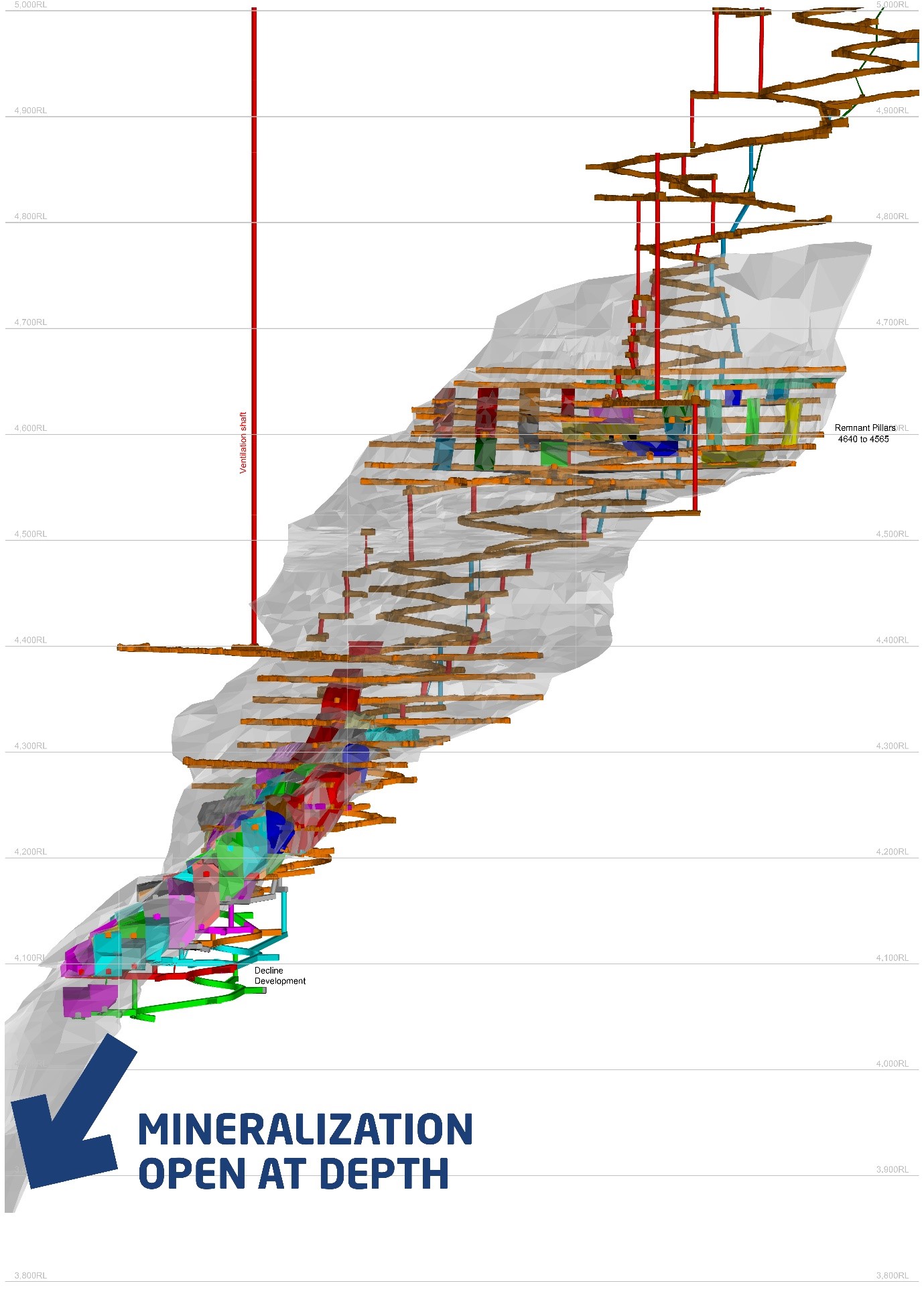 Tritton Mine Extensions
Opportunities exist to extend mining operations at Tritton from a number of sources:
• Tritton main deposit extensions at depth;
•
Recovery from remnant pillars in the upper sections of the orebody; and
•
Budgerygar deposit access through Tritton.
Resource drilling of depth extensions to Tritton is planned in FY2020, to be followed by mine design and economic analysis of how to mine the deposit at a depth of up to 1,500 metres below the surface. The mineralisation is known to extend to this depth; however a lack of drilling prevents the design of mine extension. Finding sufficient Mineral Resources at an economic copper grade is necessary before design of the access decline and other infrastructure can proceed.
Murrawombie Underground Mine
The Murrawombie deposit is located in the southern area of the Girilambone Complex. The deposit is the largest concentration of copper metal outside the Tritton deposit (5.4Mt @ 1.5%Cu for 84kt Cu metal) (Mineral Resource as at 30 June 2018).
The development of Murrawombie commenced in 2016 and the mine reached full production rates during 2018. Strategically, Murrawombie was developed to replace the now exhausted North East and Larsen underground mines.
Like Tritton, the Murrawombie deposit remains open at depth, presenting the opportunity for production to increase over time, and/or extending the life of the operation.
Ongoing grade control and geology mapping and modelling have provided a greater understanding of the Murrawombie orebody, which in turn has resulted in changes to mining methods to deliver improved and sustainable performance. For example, sub-level caving has been abandoned in favour of more straightforward mining by sub level open stope design, allowing the extraction to be selective and enabling Aeris to target higher grade portions of the deposit.
Future changes in geology will be more modest and are not expected to require significant changes in mine design. Find out more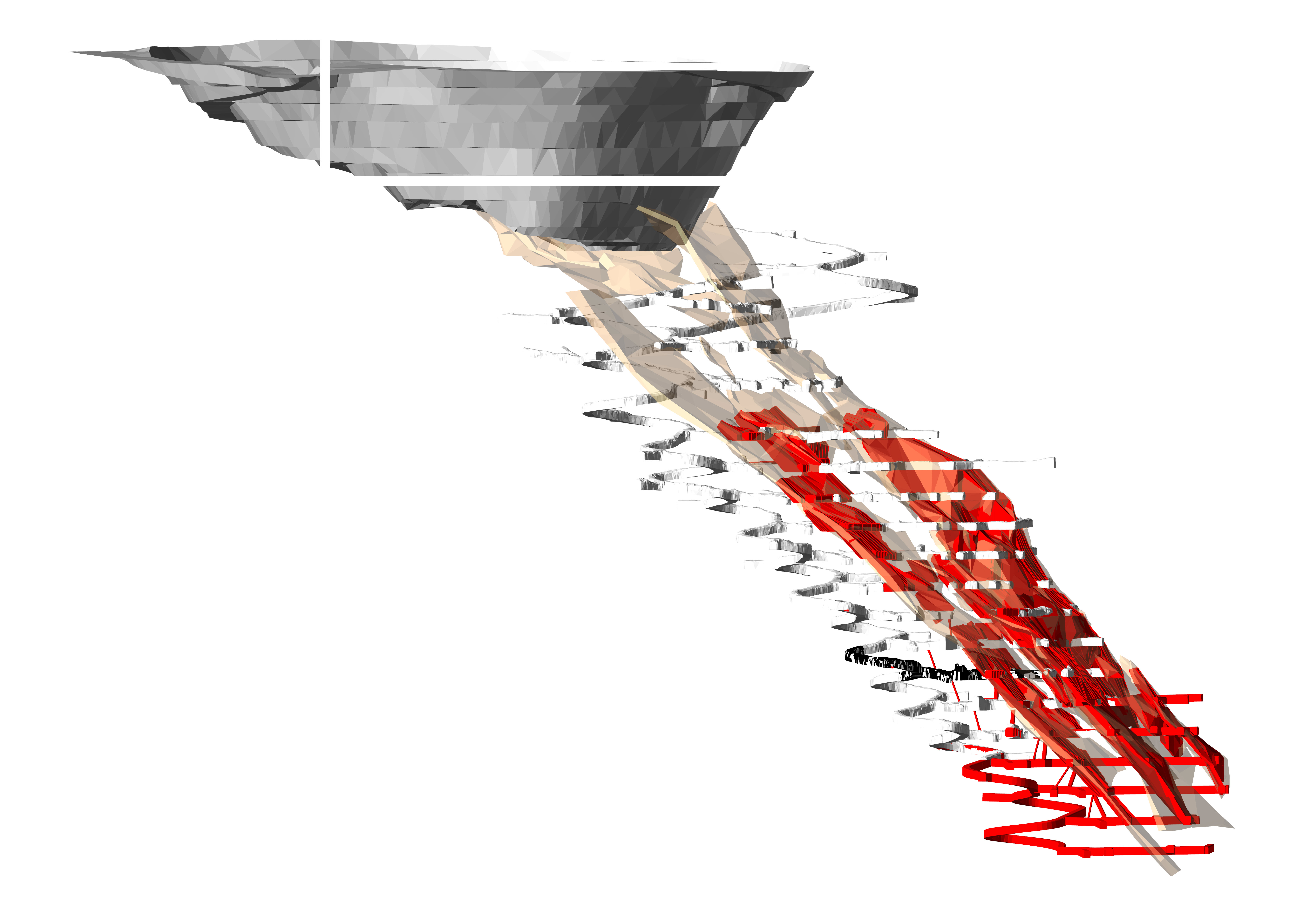 Murrawombie Underground Mine Section View
Murrawombie Open Pit Mine Project
Expansion of the old Murrawombie open pit will allow mining of an estimated 1.5 million tonnes of ore that is not suitable for underground mining methods. The expansion entails a small push-back of the eastern wall to increase the pit depth.
With local council and state approval secured, the project can proceed at any time, however the project is scheduled as the final mining activity for the Murrawombie deposit due its impact on the current underground operations. Find out more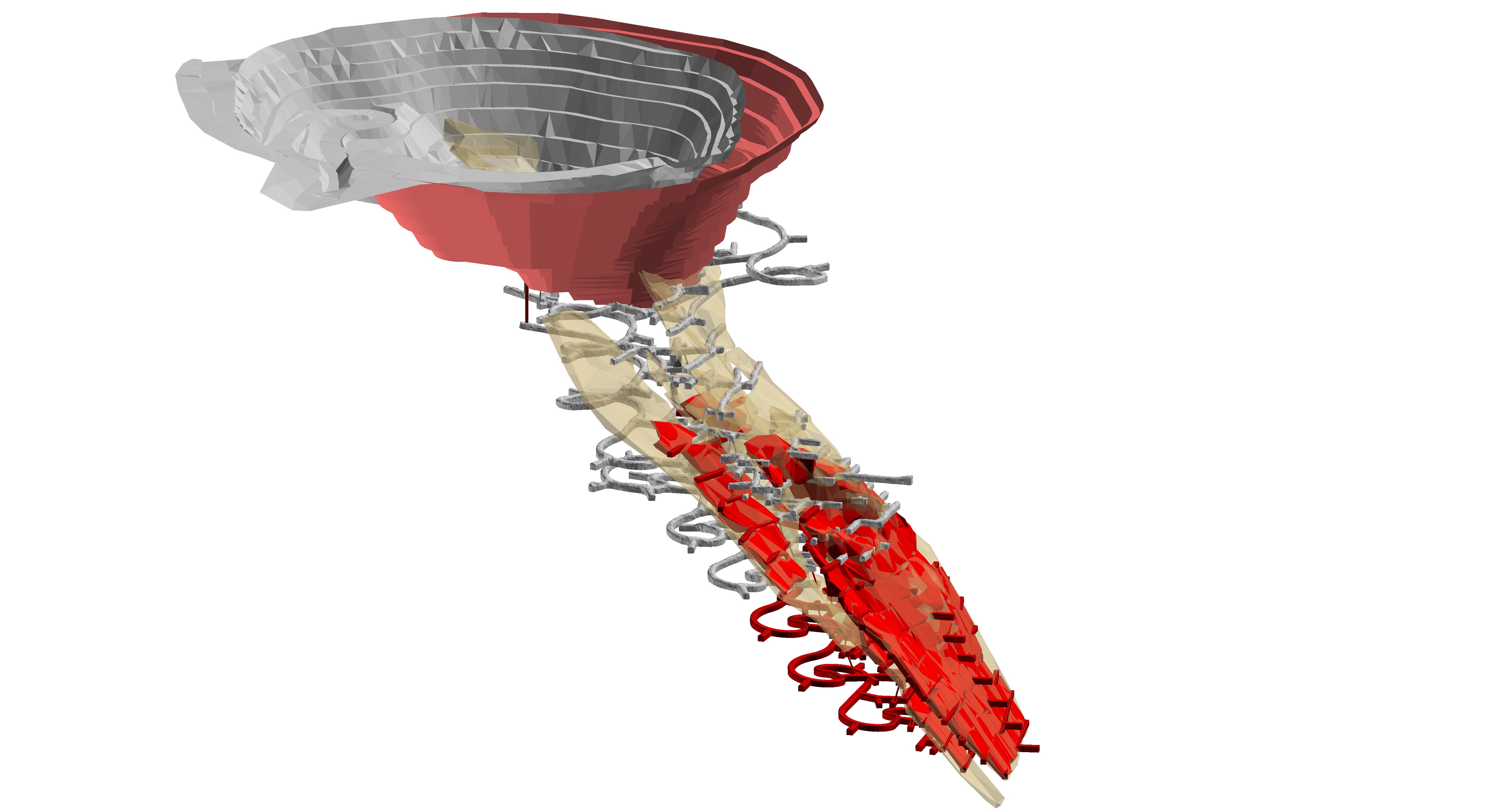 Murrawombie Open Pit Mine Extension
Budgerygar Deposit Conceptual Underground Mine
Budgerygar is hosted within the Tritton stratigraphic package and located approximately 600 metres north of the current Tritton deposit. The deposit currently has a Mineral Resource 1.6Mt@1.5% Cu for 20kt Cu metal.
Copper mineralisation is dominated by chalcopyrite and covers a strike length of 300 metres and traced 800 metres down dip, where it remains open.
Budgerygar does not form part of the current Tritton Life of Mine plan. Although it is sufficiently well drilled to support an Inferred Mineral Resource estimate, the narrow width, poor continuity and modest grade of the deposit have prevented development to date of a mining plan. Further drilling is required to identify the attractive higher grade portions of the deposit.
Upgrade of the Tritton primary ventilation circuit last year presents the opportunity to access the Budgerygar deposit from Tritton. Sufficient ventilation air can be diverted for use in development of an exploration and access drive. Mining of an exploration drilling platform for underground drilling of Budgerygar is in progress and expected to be completed in Quarter 3 of FY2020. Find out more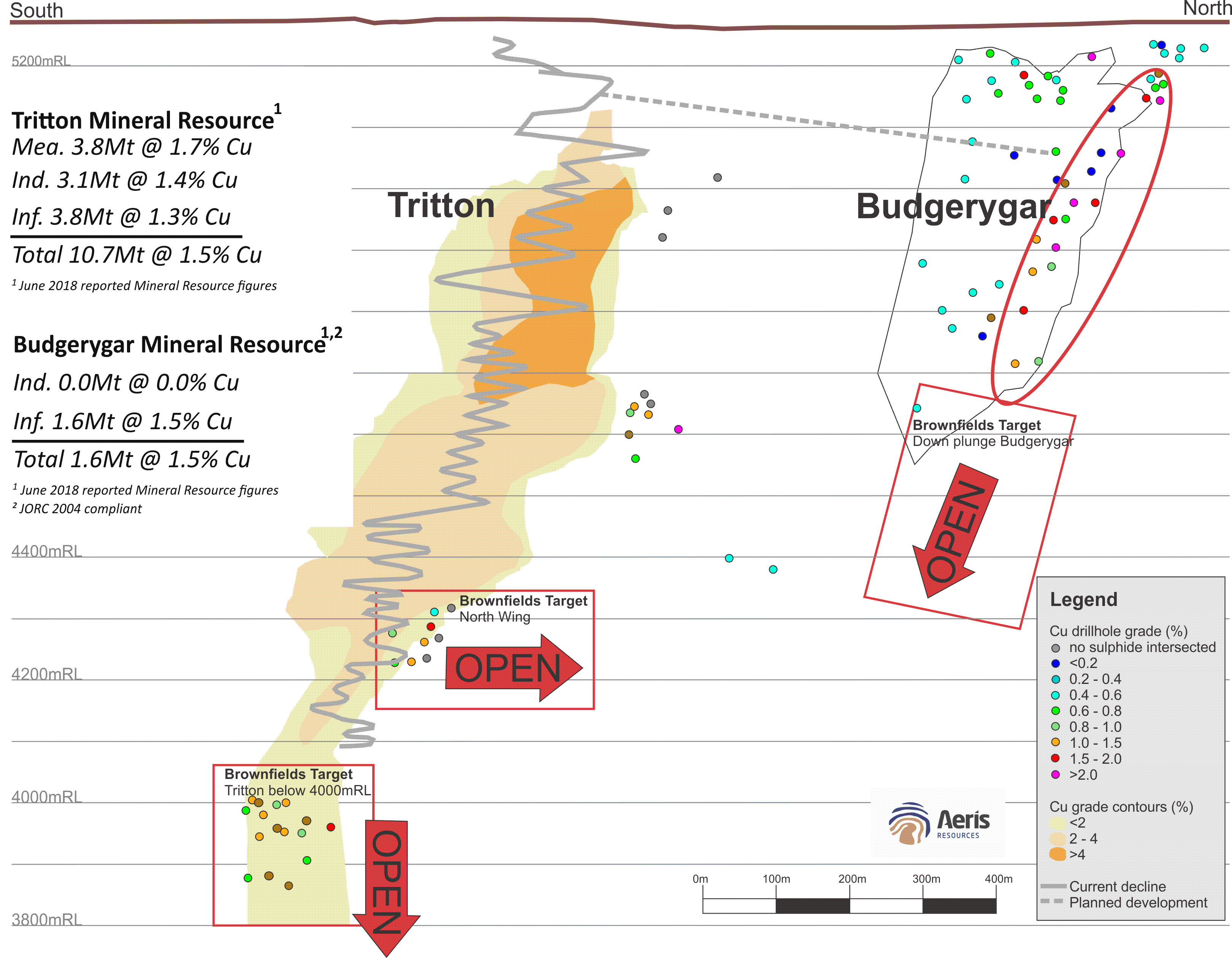 Long section of the Tritton Budgerygar Corridor
Budgery Deposit Conceptual Open Pit
The Budgery Deposit is part of the Budgery geological complex and is located by a sealed road, close to the Hermidale township and approximately 20 kilometres south of the Company's Tritton processing plant.
Significant drilling has already been conducted, sufficient to support a concept study for an open pit. Further resource drilling, metallurgy studies, environmental studies and native title negotiations are required before a pre-feasibility study can be completed.
The Budgery mineralised system is large and known to continue at depth. There has been limited drilling completed at depth, and this presents an opportunity to increase the Mineral Resource down dip from the current reported Mineral Resource, which extends 250 metres vertically. Find out more
Avoca Tank Underground Mine Project
Avoca Tank is a small, high-grade deposit located 5 kilometres to the north of Murrawombie. It is the next deposit scheduled for development into an underground mine to supplement production from the larger Tritton and Murrawombie mines. Mine construction is planned to start early in 2019.
The planned life of Avoca Tank is four years, including construction, however there is a realistic expectation that exploration drilling can increase the size of the deposit and the mine life will be extended.
The pre-feasibility study has been completed for the proposed mine for some years now, however the commencement of mine construction has been deferred to optimise ore production and capex schedules. The estimated stable production rate from the pre-feasibility study is 300,00 tonnes per annum.
It is expected that a full feasibility study will be completed in 2019. Find out more
Avoca Tank Development Application Environmental Impact Statement Documents
Avoca Tank Environmental Impact Statement
Avoca Tank Environmental Impact Statement - Conditions of Consent
Avoca Tank Project Development Application Approval - Appendix 1
Avoca Tank Project EIS - Appendix 2 Director General Requirements
Avoca Tank Projects EIS - Appendix 3 Coverage of Director General Requirements
Avoca Tank Project EIS - Appendix 4 Statement of Committment
Avoca Tank Project EIS - Appendix 5 Aboriginal Cultural Heritage Assessment Part 1
Avoca Tank Project EIS - Appendix 5 Aboriginal Cultural Heritage Assessment Part 2
Avoca Tank Project EIS - Appendix 6 Ecology Assessment
Avoca Tank Project EIS - Appendix 7 Groundwater Impact Assessment
Avoca Tank Project EIS - Appendix 8 Noise and Blasting Assessment
Avoca Tank Project EIS - Appendix 9 Historic Heritage Assessment
Avoca Tank Project - Response to Submissions & Appendices June 2016
Avoca Tank Project Complaints Register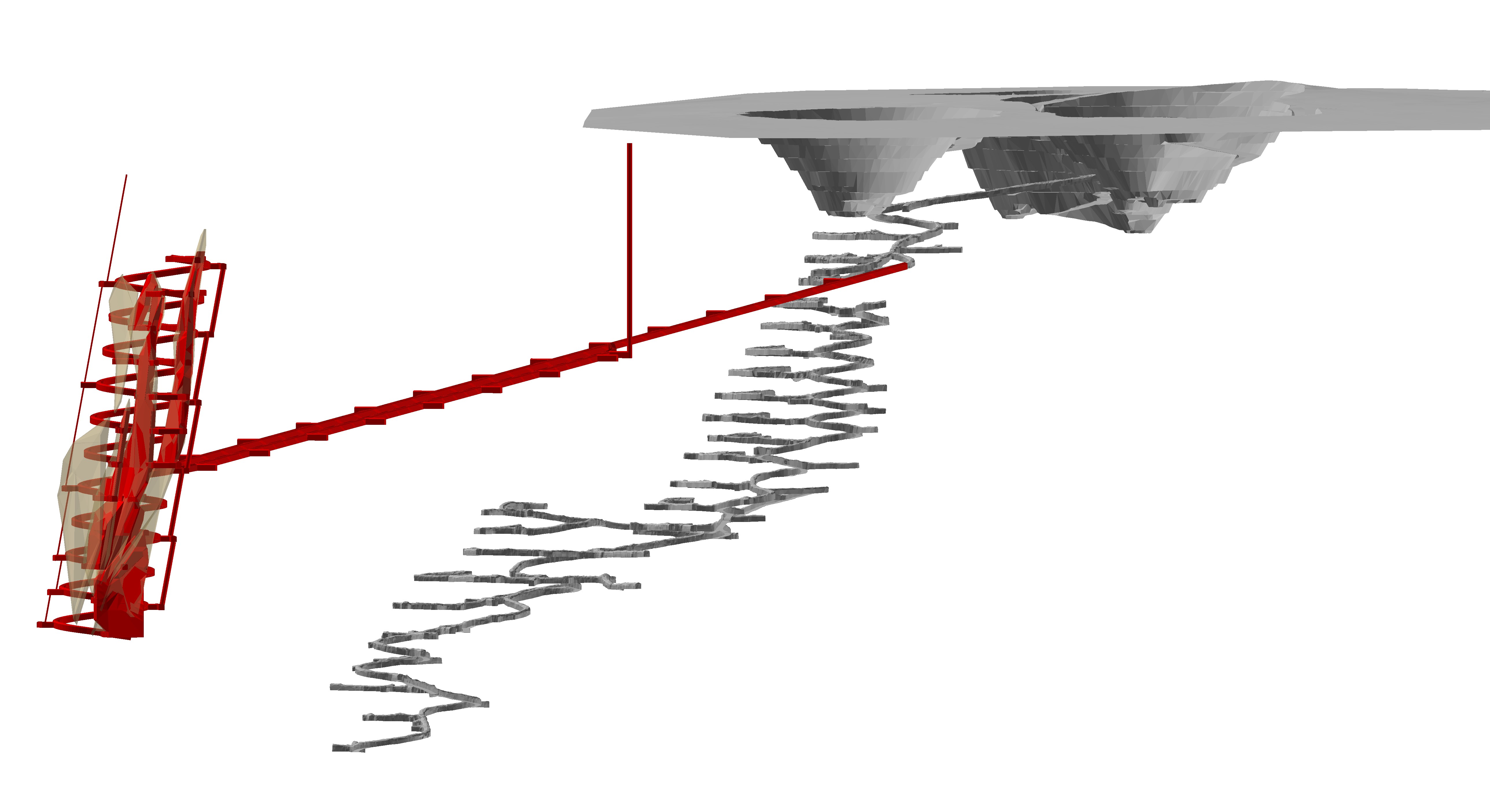 Avoca Tank and North-East Mine Infrastructure
Processing
Ore from Tritton and Murrawombie is transported to Aeris' 1.8 million tonne per annum processing plant, located near the Tritton mine. Here the ore is processed through conventional crushing and flotation methods, producing a clean copper concentrate.
Concentrate is transported by rail to the port of Newcastle, and is then shipped to smelters, predominantly in the Asia Pacific region.