EXPLORATION
Aeris Resources' exploration activities are focussed on two highly-prospective areas:
The package of tenements surrounding the Tritton Copper Operations in NSW; and
The Torrens project in South Australia
Tritton Regional Exploration
Aeris has a number of prospective exploration tenements in NSW surrounding the current Tritton Copper Operations collectively referred to as the Tritton tenement package. The package covers an area of 1800m2 and is 100% owned by Aeris. There is also a small tenement at nearby Canbelego held in joint venture (30%) with Helix Resources.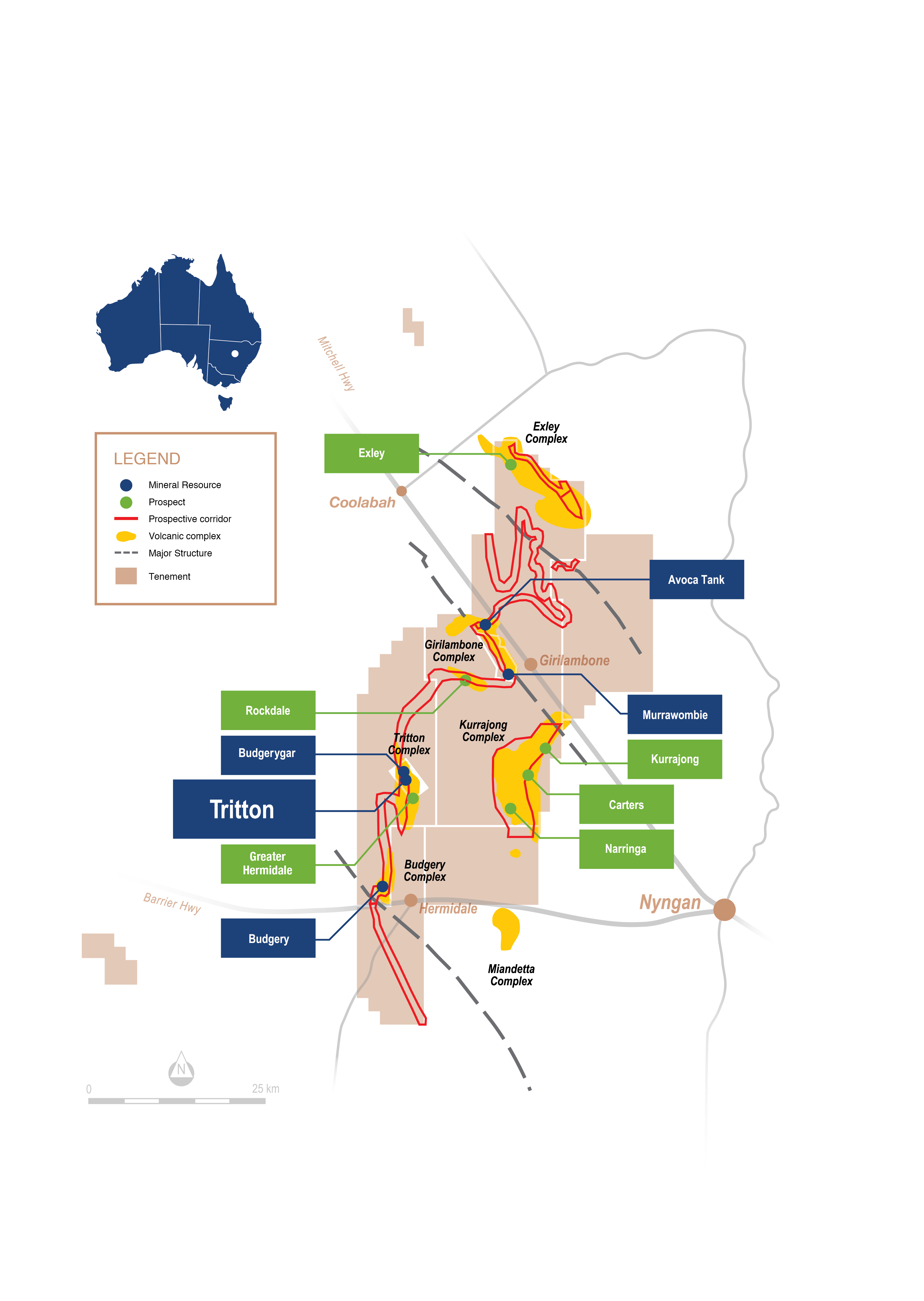 Tritton Mine Tenement Package
A strategic greenfields exploration program is underway, focussed on the current tenement package and looking for Tritton-sized orebodies of more than 10-million tonnes.
Six major geological complexes have been identified to date: Tritton, Girilambone, Budgery, Kurrajong, Miandetta and Exley. These complexes are found within a sequence of sedimentary and volcanogenic rocks extending over a combined strike length of more than 100 kilometres.
Within a single volcanic complex it is common to find one or two large deposits and numerous smaller deposits. A large deposit may be 20 million tonnes, such as the Tritton Deposit, while the smaller deposits can be sub one million tonnes or up to two million tonnes in size.
The exploration plan is to test each of the volcanic complexes, looking deeper than previously, with a focus on discovering larger, Tritton-sized (10Mt+) deposits.
The exploration techniques and technology utilised to date have been very effective in identifying and defining copper deposits within the tenement package, with a focus on exploring within 250 metres from surface. This strategy has been successful in discovering more than 750,000 tonnes of copper in the southern half of the Tritton tenement package along a geological trend of approximately 50 kilometres in strike. Importantly, the northern half of the package has had very little exploration undertaken to date. Recent mapping however has extended the strike length of the known geological trend by a further 65 kilometres.
The majority of the deposits are detectable from electromagnetic geophysical methods, which were instrumental in the discovery of the Tritton Deposit.
The current exploration program includes the application of new high power electromagnetic technologies to detect mineralisation at greater depths, down to 500 metres below surface.
An airborne EM program conducted in the northernmost section of the tenements in early 2017 has identified four new anomalies for follow-up.
Drill Program
The greenfields drill program targeted three EM conductors defined from a moving loop EM (MLTEM) survey program; two new targets (Marlin and Galaxy anomalies) located south of Tritton and the confirmed the known Kurrajong prospect, which contained two modelled EM plates.
The Marlin and Galaxy anomalies are stratigraphically located in a similar position to the Tritton deposit, 3 kilometers and 7 kilometers south of Tritton respectively. A preliminary drill hole at the Galaxy prospect intersected several pyritic graphite shear zones which accounted for the EM response. At the Marlin prospect one drill hole was completed which intersected thick sequences of mafic volcanics with lesser turbidite sequences. Although the drill hole did not intersect a conductive body, the area remains prospective given its close proximity to Tritton and encouraging surface geochemistry results.
The Kurrajong prospect is a known copper mineralised system defined by a broad surface geochemical anomaly and associated shallow historical workings. Two previous drill programs completed at Kurrajong intersected sulphide mineralisation containing copper from a limited number of drill holes. Best drill intersections included TKJD007 4.0 m @ 2.46% copper, TKJD008 6.0m @ 3.92% copper and TKJD012 10.0m @ 2.43% copper.
The modelled EM conductor plates from the current MLTEM survey correlate favourably with the historical higher grade drill hole intersections. Three-dimensional modeling of the MLTEM conductors at Kurrajong defined two stacked layers of moderate strength (1,500S to 2,000S) conductors positioned approximately 400 metres below surface, with dimensions in the range of 125 metres (strike) by 150 metres (depth).
Six drill holes have been completed at Kurrajong since drilling re-commenced in April 2018.
Five drill holes have intersected sulphide mineralisation, with four intersecting massive sulphides containing high grade copper mineralisation. The high grade massive sulphide corridor has been intersected over 800m down plunge and remains open in all directions.
The first drill hole (TKJD014) was designed to intersect copper mineralisation 150 metres down plunge from the three drill holes which had intersected high grade copper mineralisation from an earlier 2012-2013 drill campaign. TKJD014 intersected a significant zone of massive and semi-massive sulphides from 676.6m down hole. Assay results include:
• 19.4m @ 2.18% copper, 0.30g/t gold, 7g/t silver from 676.6m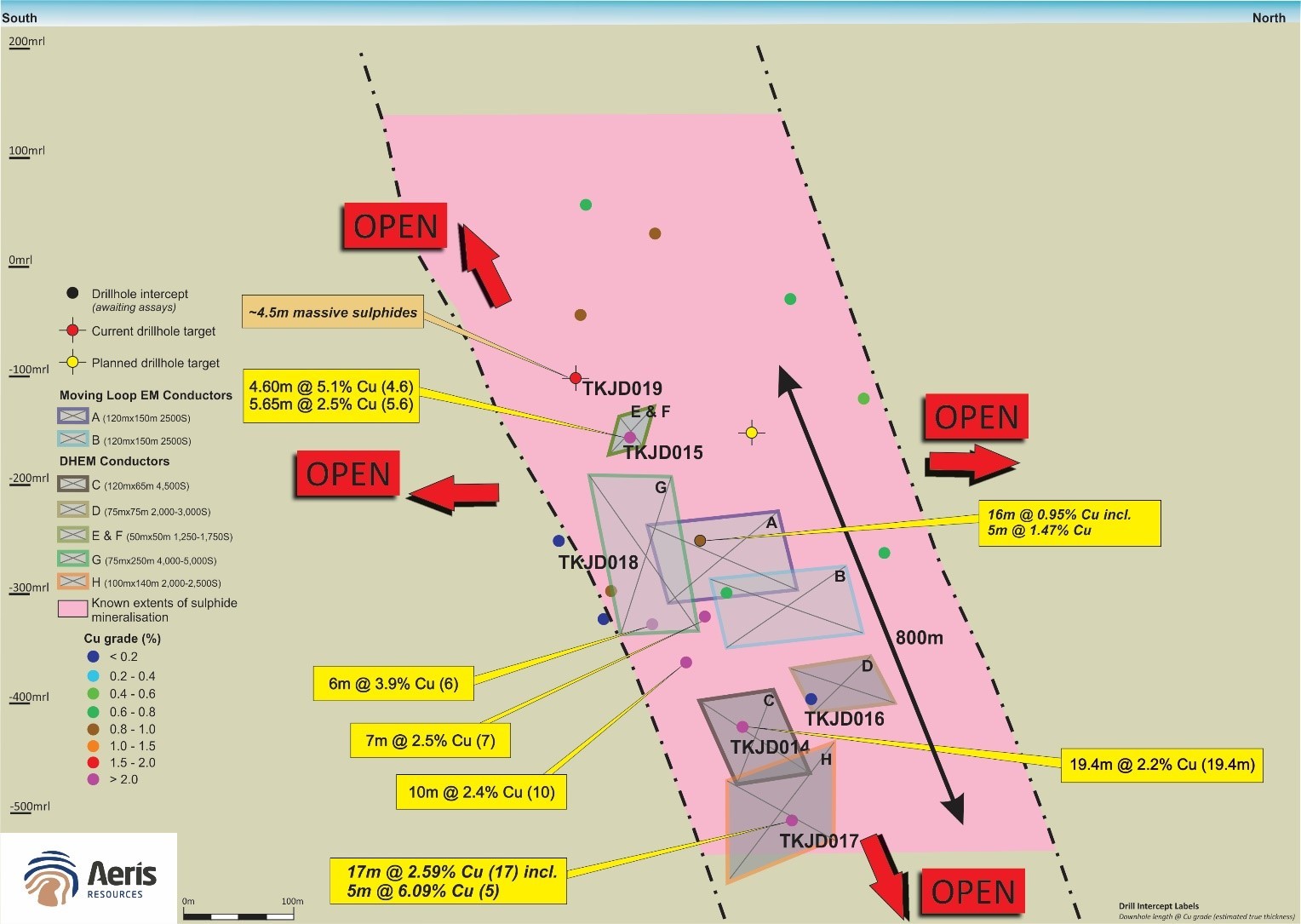 Long section view of the interpreted Kurrajong mineralised envelope showing the location and copper grade from drill hole intersections through the sulphide deposit
TKJD015 was designed to test the interpreted up-plunge continuity of the high grade system within an area not previously drill tested. Previous electromagnetic surveying at Kurrajong had not detected a conductive body in this area. Two massive/semi-massive sulphide lenses were intersected from 403.4 metres down hole. The upper lens contained massive sulphides, dominated by pyrite and chalcopyrite over a 4.6 metreinterval. The lower lens is characterised by banded/semi-massive sulphides (notably pyrite and chalcopyrite) with chalcopyrite veining in places. A 10.1 metreweakly mineralised (<0.5% Cu) to barren turbidite unit separates the mineralised lenses. Assay results returned include:
• 4.60m @ 5.09% copper, 0.79g/t gold, 17g/t silver from 403.4m
• 5.65m @ 2.52% copper, 0.20g/t gold, 6g/t silver from 418.1m
Drill hole TKJD016 was designed to target the DHEM off-hole anomaly detected along strike from KJD014. The drill hole deviated further than expected and intersected the margin of the modelled plate, rather than the centre of the plate as planned. The drill hole intersected a broad zone of stringer sulphide mineralisation containing <10% contained sulphides (visual estimate). Assay results through the interval returned 45.4m @ 0.14% Cu.
The DHEM survey results from TKJD016 constrained the existing modelled DHEM plates and reaffirmed earlier observations that TKJD016 has not adequately tested the modelled DHEM plate. The DHEM plate remains a legitimate drill target and will be tested at a future date.
TKJD017 was designed to test the interpreted down-plunge extension of the high grade copper sulphide intersection in TKJD014. TKJD017 successfully intersected sulphide mineralisation including a 5 metre thick massive sulphide lens. Assay results returned from the sulphide zone include:
• 17.0m @ 2.59% copper, 0.30g/t gold, 7g/t silver from 753.0m including
• 5.0m @ 6.09% copper, 0.83g/t gold, 20g/t silver from 765.0m
The DHEM survey from TKJD018 detected a strong (4,500S) and large (75m strike x 250m dip length) conductive EM plate which coincides with the interpreted high grade sulphide horizon.
TKJD019 (sixth drill hole) was designed to test the up-plunge extents of the high grade massive/semi-massive copper sulphide zone intersected in TKJD015. TKJD019 intersected a 4.5 metre thick massive sulphide interval from 340.4 metre down hole. The massive sulphide intersection is located approximately 150 metre up-plunge from TKJD015. Assay results pending.