North Queensland Copper Operations is comprised of the Mt Colin copper mine, the Barbara copper/gold project and a prospective tenement package in the Mount Isa/Cloncurry region. It was acquired by Aeris Resources in July 2022.
Key Information
| | |
| --- | --- |
| Location: | The Mount Isa/Cloncurry region in North-West Queensland |
| Province: | Mount Isa Inlier |
| Resource: | Copper and Gold |
| Mining Method: | Underground mining |
History
Mt Colin operated originally as an open-cut mine and then transitioned to underground operations in 2019.
Production is due to complete in FY2024. Mt Colin employs long hole open stoping methods with run of mine ore crushed on site before being transported by road train to existing processing facilities in the region for toll treatment. The copper-gold concentrate produced is smelted in Mount Isa before being railed to the Port of Townsville for export.
Development and Exploration Projects
With production at Mt Colin due to be complete in FY2024, Aeris is undertaking mining and exploration studies to investigate the potential of a new underground operation at Barbara.
The Barbara project is a former open-cut copper and gold mine. The site operated from 2019 to 2020 before being placed into care and maintenance. A significant copper-gold resource remains below the pit.
In addition to the Mt Colin and Barbara mines, North Queensland Operations also includes a large regional exploration package. The tenement package is divided into three main areas including Hazel Creek area, the Central Exploration area near Cloncurry and the Soldiers Cap area to the south of Cloncurry. This tenement package is considered prospective for IOCG-style copper-gold deposits as well as lead-zinc-silver deposits.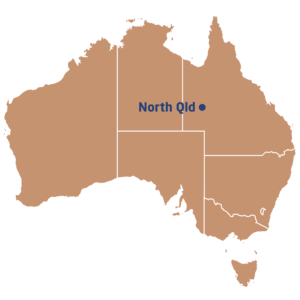 Community
North Queensland Copper Operations is a local, community-focused underground mining operation that actively contributes to the local economy. Optimising employment opportunities for residents and local businesses is important to Aeris and we play a notable role in supporting the local population.
The land on which Mount Colin and Barbara mines operate is part of the traditional lands of the Kalkadoon People (Kalkatungu). Aeris is committed to upholding vital cultural heritage values and environmental standards in the region through a legacy of positive collaboration with traditional owners, landowners, regulators, and local stakeholders. Our operations have a longstanding contract with a local indigenously-owned and managed contractor, engaged for ongoing maintenance of our access and haul roads.
You can learn more about North Queensland Copper Operations by viewing our fact sheet here.