The Tritton Copper Operations (Tritton) achieved a year-on-year reduction in injuries, continuing the long-term trend of improving performance. A new record low Total Reportable Injury Frequency Rate (TRIFR) of 19 was achieved for the 12-month period to June 30, 2019. However, there were five lost time injuries during the year. This was a disappointing increase on the previous year, when two lost time injuries were sustained.
Improvements to the safety management system continued during the year. A risk assessment and critical control development plan was completed for all principal hazards early in the year. The safety management system includes a continuous improvement framework and the process of review and improving the control plans is well advanced. An important result was the successful completion of an independent verification process for the mobile equipment critical control performance standard.
The Company's Safety Management System uses the modern mining industry framework which focuses on the control of Catastrophic Potential Events (CPEs) – that is those events that have the potential to cause life changing injuries. Experience shows that most serious events are associated with failure to effectively implement known controls, rather than not knowing what the risks and controls should be. Building on last year's completion of the control plans we will consolidate, clarify and coordinate the critical controls in FY2020. This will make the system easier to understand and execute for the workforce, hence more effective in preventing CPEs.
Our learning experience with the independent verification of mobile equipment critical control performance standards completed in FY2019, is to be applied as our model for Critical Control Management (CCM) verification. Data from the verification process will provide valuable information regarding the effectiveness of critical controls and ensuring continuous improvement of Tritton's performance in managing CPEs.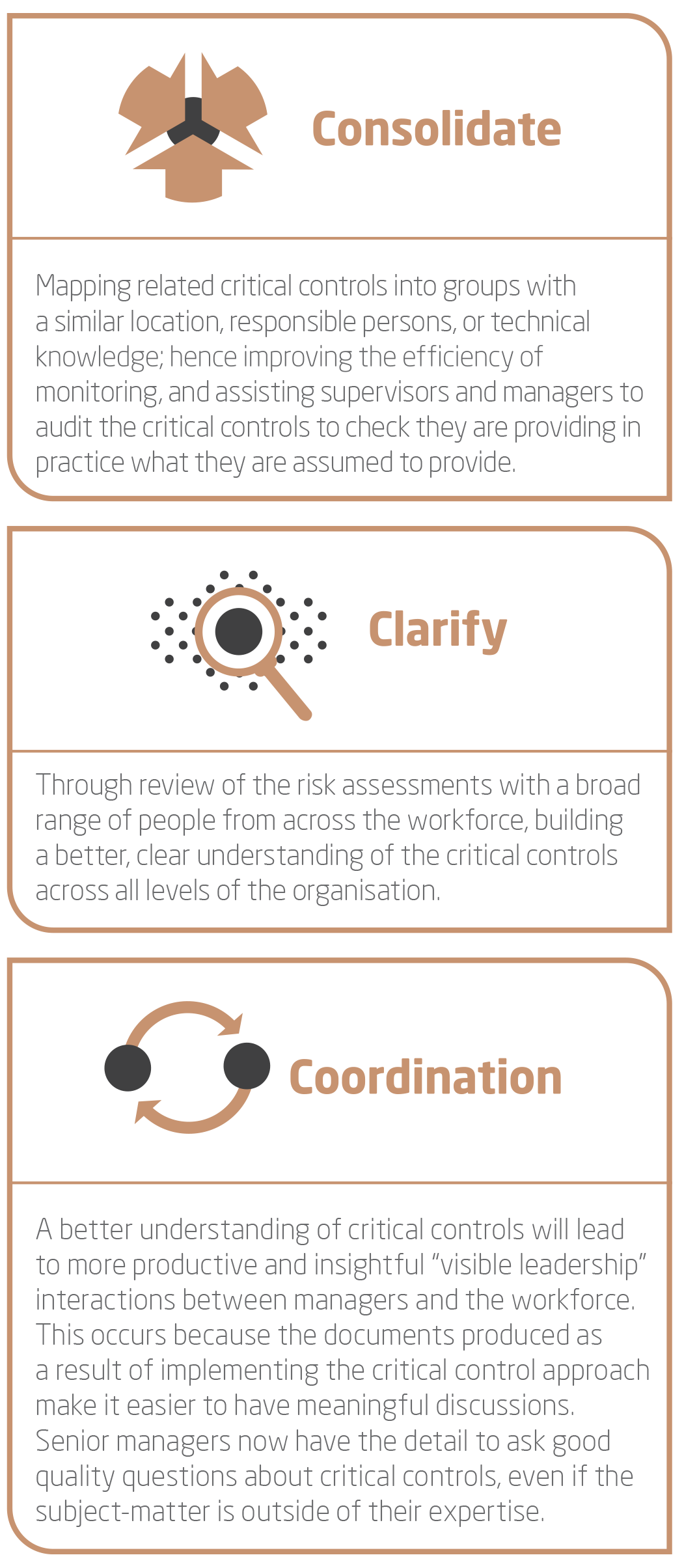 The CCM approach supports the development of an effective safety culture. CCM emphasises the importance of effective implementation of critical controls. In other words, it focuses on important practices that prevent or minimise CPEs. A focus on practices or "how we do things around here" is an accepted way of developing and sustaining an effective safety culture. An effective safety culture is necessary to make safety systems work.
Operational training systems are to be refreshed with new technology solutions that allow for improved student experiences and low-cost management of training records. The operations training documents are reviewed in combination with the critical control verification. Improving the training material quality and reducing the overhead burden of record keeping can be achieved simultaneously with new technology.
Tritton was audited on a regular basis during the year by the State Regulator as part of its strategy for targeted risk-based assessment programs. Each audit focused on a specific significant hazard and the effectiveness of control plans within our safety management system. Pleasingly, the audits showed a high level of compliance, reaffirming the effectiveness of the controls in our safety management system.
A hazardous manual tasks education program commenced in late 2018. This is a targeted intervention to reduce the number and severity of sprains and strains that make up a significant portion of total reportable injuries. The program has involved training in manual handling and regular on-site support from a physiotherapist. It is pleasing to note that the program has been heralded as a success.
Emergency Response
Both Tritton's and Cracow's Emergency Response Teams (ERT) use highly specialised training to assist in the event of emergencies. The teams regularly train for competitions at the regional and national levels. These competitions simulate critical rescue missions that test and hone skills in first aid, search and rescue, firefighting, road accident rescue, ventilation and breathing apparatus.
Committing to mine rescue competitions requires hours of personal training time on behalf of participants, including strenuous physical and mental exercise. A strong commitment from the workforce to get involved is supported by an investment in training and leadership by the Company. When required, the emergency response team of volunteer employees have provided excellent service.