David Hume, General Manager Tritton Copper Operations welcomes the new Electric Integrated Tool  (IT) with Tritton and 3ME team members on 11 November 2020.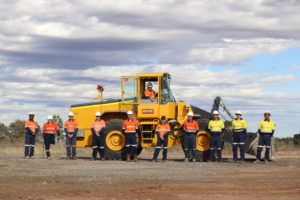 L-R: Valentine Utete, Janine Lea-Barrett, Ben Hogan, Frank Donnelly, David Hume, Michael Robertson, Ian Sheppard. 3ME employees – Martin Kime,  Norman Boessler, Matthew Thomas. IT driver  Ross French.
In 2017, Aeris was invited to join a technology development project under the METS Ignited program, where the company collaboratively developed the TrittEV 20-tonne Integrated Tool (IT) carrier/loader with 3ME (mining, military, marine) who were looking to retrofit an integrated tool carrier/loader with an electric engine.
This has positioned Aeris at the cutting edge of the electric vehicle (EV) technology.
This breakthrough electric vehicle technology has all the capabilities of a standard Integrated Tool (IT) carrier/loader.
Our Objectives for this project are:
To trial the TritEV20 IT carrier/loader and its applications to the modern mine site;
To explore new ways that electric vehicles can replace diesel vehicles on site;
To explore the improved working and safety conditions of using electric vehicles in underground mining; and
To continue to push innovation to the forefront of everything we do.
This is an exciting new step for Aeris, as the company enters the battery-powered era through the trial of the TrittEV 20-tonne IT carrier/loader.
A three-year collaborative project in with 3ME saw the development of the IT carrier/loader, with a standard loader being retrofit with EV components. The TrittEV has the same capabilities as a standard carrier/loader.
This is the first trial onsite at Tritton Copper operations with the potential for additional future trials and the possibility of adding more units to the fleet.  Future trials will depend largely on how the TrittEV performs but also on identifying more vehicles for conversion as well as technology partners.
Aeris sees great potential for increasing safety in underground mine operations through the use of innovative solutions such as the TrittEV.  The expected reduction in diesel fumes underground will see less pressure on ventilation and a huge reduction in the power consumption of extraction fans.
We are Aeris.  We are Innovative.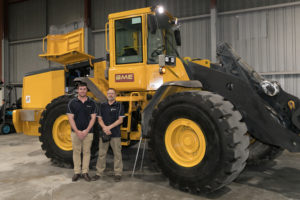 Ben Hogan Graduate Mechanical Engineer  & Mick Robinson Senior Mechanical Engineer at 3ME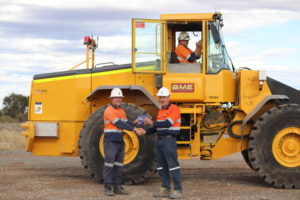 Ben Hogan and Ian Sheppard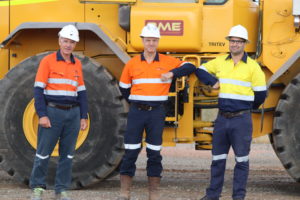 Ian Sheppard COO, David Hume GM Tritton, Martin Kime – COO 3ME